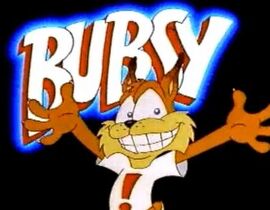 Bubsy - What Could Possibly Go Wrong? is a cartoon pilot episode for an animated series sponsored by Taco Bell[1], aired in November 28th, 1993 at 7:00 a.m on FOX 53 [2].
It was released as part of the Super Bubsy game on Windows 95.
The Production
At that time, Michael Berlyn left the company and he wasn't involved in this project. The only thing he did for their project is to came up with some of the characters they used in, such as Oblivia. [3]
We don't know, when the production started, but what we know is that, they worked in Calico Studios and we also know, who was involved in it. Here's the list of important people and what they're known for. They also have a lot of connections each-other. 
The Director was Tom Burton, Producers we're Claudia Zeitlin Burton and Tom Burton, the Art Director was Ken Leonard (not Ken Macklin) and it was Produced by Calico Entertainment. They are known for making cartoons like Denver, the Last Dinosaur (1988-1989), Widget, the World Watcher (1990-1991) and Mr. Bogus (1991-1993). [4]
Besides Calico Entertainment, it was also Produced by Imagination Factory Inc., who also has the connection with Calico Entertainment and that is, they both produced The Adventures of Zorro (1997-1998) and Bad Baby (1997). [5]
The Writer was Ray De Laurentis. Now this is interesting, because he is known Writer for The Fairly OddParents (2009-2017) and T.U.F.F. Puppy (2010-2015). [6]
It was animated by Sei Young Animation. It was an animation studio based in South Korea, known for animating Super Mario Bros. Super Show!, The Legend of Zelda, and The Adventures of Super Mario Bros. 3. Not to mention, they also animated some anime. [7]
The Music was made by California Star Productions, who also made music for The Moo Family Holiday Hoe-Down (1992) and Bad Baby (1997), another Calico Entertainment cartoon. [8]
The Footages we're used from Archive Film and from NASA. 
It was sponsored by Taco Bell. "The TV pilot had a more southwest, angled feel, and that was okay since the sponsor was Taco Bell (if I recall correctly)" [9] -Michael Berlyn, Sega-16's interview
Cast
List of commercials
While the cartoon aired on November 28th 1993 at 7:00 am on FOX 53, these commercials popped out:
1.    Bubblin shower (Mattel)
2.    Original Bugles, corn snacks (General Mills, Inc.)
3.    Granola Bars (Nature Valley)
4.    36 Hour Marathon sale! (Value City Furniture)
5.    Tyrannosaurus Rocks (Mattel)
6.    Bumble Ball (ERTL)
7.    Quintex Cellular
8.    Western School of Health & Business
9.    Barbie: Paint 'N Dazzle Car (Mattel)
10.  Answer & Win (FOX 53)
11.  Thanksgiving Safety (Edgar Snyder & Associates)
12.  Paws with a chase
Reactions
The reactions weren't really good. It wasn't a big success, so it failed.
On the Bubsy Fanblog, Michael Berlyn said, that Accolade developers we're cringing while they watched it. Even though, they were involved in the production of it. [10]
Some people say, that he hated the cartoon, but according to Sega-16's interview with Michael Berlyn, when they asked him, what did he thought of it, he said this:
"…//I thought it was extremely clever — it did a nice job of playing on Bubsy's name, and the characters were all "Bubsy-like." While the art direction was not what Bubsy was all about, it was at least interesting. Bubsy's original art direction was an interpretation of the Fleischer cartoons of the 1920s and 30s. The rounded, bouncing, alive cars and objects was what I wanted, and after a lot of work, was accomplished. The TV pilot had a more southwest, angled feel, and that was okay since the sponser was Taco Bell (if I recall correctly). The attitude and wisecracks were Bubsy, though." [11]
But it could only mean, that he only liked Bubsy's characters, because in the other interview (this time with DoctorClu), he said, that he didn't like the cartoon. [12]
Super Bubsy version and TV version
Super Bubsy version
In 1997, Accolade released a new game called Super Bubsy. It's a remake of Bubsy in Claws Encounters of the Furred Kind. It was released on Windows 95. The most interesting part of this game is collecting TVs. If you collect 20 TVs, you will get to see the whole Bubsy cartoon.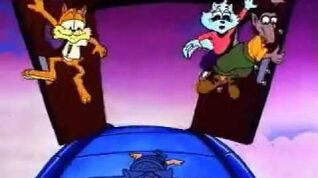 The upload on Youtube
A Youtuber named geekzila uploaded the whole thing on August 13th 2012. It got very popular and lots of people talked about it.
However, he is not the first person to upload Bubsy cartoon. That would be DoctorClu, who uploaded them six years earlier than him. Two parts we're uploaded on July 14th 2006 and other two we're uploaded on November 19th 2006.
Maybe geekzila found those videos and put them together in one video. We don't know, if it's true, maybe it is.
Anyway, it makes sense, that it was found from Super Bubsy, since finding it was hard at that time. It wasn't released in any VHSes, nor in DVDs. And the only one who has it is on the Super Bubsy game. And besides, not a single person had recorded it from TV, when it aired.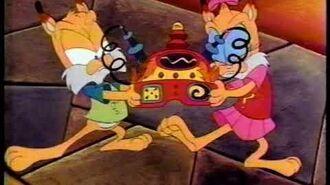 The TV version
That is until in 2017, when a youtuber named areyoustilllistening uploaded a video called "Bubsy Pilot - What Could Possibly Go Wrong? (With Original Commercials)"
That's where we also found out on which channel was aired.
Super Bubsy version vs TV version
What's really interesting is that, the Super Bubsy version is longer than the TV version. It's 24 minutes long and the TV version is 21 minutes long.
They cut a lot of scenes, sometimes even changed the music. They even changed the lines and voices on the parts, when they go "After these messages!"
Now, here's a theory. The Super Bubsy version was supposed to be aired on TV, but they cut some of the parts out, because they thought, that it was too long, probably too much time taken for the commercial time, so they made it shorter. We are not sure, why they changed the part, when they go "After these messages!" but it kinda makes sense.
Bubsy's Watch'n Win Contest
The Postcard
At one time, when they we're selling Bubsy in Claws Encounters of the Furred Kind for Sega Mega Drive, they also included this interesting postcard from Bubsy. He wrote about the contest called "Watch'n Win" and if you won, you would got a big prize. We never knew a lot of information about this contest other than from the postcard, which it just mentions it.
That is, until in 2016, when someone uploaded a scanned flyer for it. Which is amazing, but we don't know, where did this person got it. [13]
Backstory
In 1993, Accolade teamed up with Software Etc. (the gaming shop that doesn't excist today) and made a contest called "Bubsy's Watch'n Win Contest"
Contest
The contest was to watch the Bubsy cartoon on TV and write your 3 favorite cartoon characters on the Entry Form. Then you cut the Entry Form from the flyer and send it to the address, that was written bellow.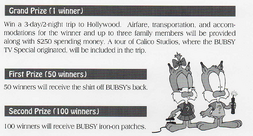 Prizes
According to the flyer, the prizes we're really interesting. The grand prize was in short a trip to Hollywood and see Calico Studios. The first prize was a T-shirt "Bubsy's back!" And the second prize was Bubsy iron-on patches.
News?
Well, we don't know, how many people joined, we don't even know, who won the grand prize. Accolade never said any news about it or any updates. So really, we have no idea about this one. Maybe it's because they worked on Bubsy 2 and then on Bubsy in Fractured Furry Tales and even on other games at that time and they eventually forgot about this contest.
Footage's origins
Bubsy Pilot used 9 old clips. 6 of them are found, but 3 of them are still lost or simply unknown.
First Round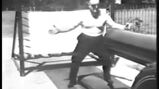 "Because I am brave.." It shows the footage of a brave man, who stops cannonball by his stomach. This is Frank Richards (1887-1969), who was an American carnival and vaudeville performer and mostly known for stopping cannonballs with his stomach. [14]
"Because I crave adventure..." Then it shows a footage of a caveman fighting with some sort of monster. We are not sure where this came from. So no source found for this one yet.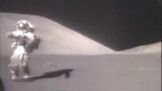 "Because, I need to go, where no bobcat has ever gone before.." Then it shows a footage of an astronaut jumping on the moon. This is of course from NASA. More specifically, the First Moon Lading from 1969 (Neil Armstrong).
Second Round
"Let's take a bull by the horn.." Then it shows a footage of a man riding on a bull, then he falls down and bull beats him. No source to be found for this one yet.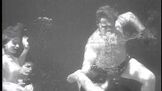 "Let's beat the odds..." Then it shows a footage of two men boxing underwater. This footage was recorded in Silver Spring, Florida. Boxing underwater was some sort of tourist attraction in Silver Spring, Florida in the 1950s.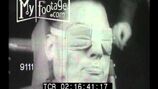 "Let's throw the course into the wind!" Then it shows a footage of a man in some sort of test. This man was in the G-force experiment in wind tunnel (level 9 of 10), that was tested by US military.
Third Round
"You gotta live on the edge.." Then it shows a footage of a man standing on one hand on a roof. No source to be found for this one yet. 
"You gotta go for the gusto..." Then it shows a footage of a man ice-skating with a rocket on his back. It was a test on Rocket Ice Skater invention. But it didn't work and he fell down.
"You gotta be a hero for crying out loud!" And for the final footage to show, it shows a superhero flying in the sky. It's a scene from the movie called: Invaders from Space (1965). It's a movie, that was edited for American audience of the 1957 Japanese short series called Super Giant. [15]
Trivias
The pilot was created by the same company who made Widget The World Watcher and The New Adventures of Zorro.
The same people made The Moo Family Holiday Hoe-Down (1992). The same Director, same Producers, same Production (Calico Entertainment), same Musicians, same Art Director… It even has close to have the same voiceactors. But Neil Ross wasn't in it and Brian Cummings was in it.
Rob Paulsen, the voiceactor of Bubsy, also voiceacted him for Bubsy 2 (1994) and for Bubsy in Fractured Furry Tales (1994).
On the Bubsy Fanblog, Michael Berlyn said the Accolade developers were cringing while they watched the pilot. Even though, they were involved of the production of it.
In Super Bubsy version, it mentions "What could possibly go wrong?" phrase 10 times (Bubsy says 8 times, Arnold says 2 times) but in TV version, they cut some of them and it mentions 8 times (Bubsy says 6 times, Arnold says 2 times). Not much of a difference, but yea. Even the title is called that.
Oblivia, the assistant of Virgil was created by Michael Berlyn. The reason for it is because he was inspired by his relative. [16]
External Links
Summaries and screenshots of the Bubsy cartoon pilot can be found at the following locations:
References