To promote the original Bubsy games, lots of special promotional merchandise was created to sell copies. A lot of this merch is lost and cannot be found online, however some pictures have surfaced of certain promotional material.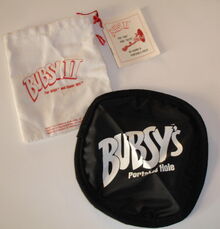 Known existing merch consists of;
Pre-Release
Bubsy: Claws Encounters of the Furred Kind
Bubsy TV Pilot
Bubsy II
Bubsy: Fractured Furry Tales
Bubsy 3D
Bubsy: Woolies Strike Back

Bubsy: Woolies Strike Back - Purrfect Edition

Business Card
Postcard
Soundtrack CD

Shirt - Short Sleeve (five colors) -Bubsy Nation (From Amazon)
Shirt - Long Sleeve (three colors) - Bubsy Nation ( From Amazon)

Bubsy: Paws on Fire
Most of which are extremely rare to come across and cannot currently be found for sale anywhere. If you happen to find some Bubsy merch for sale, it is highly recommended you take a screenshot to add here!
Links
https://www.amazon.com/s/ref=w_bl_sl_s_ap_web_7141123011?ie=UTF8&node=7141123011&field-brandtextbin=Accolade